The COSMIAC Executive Team

Craig J. Kief, Director
Mr. Craig J. Kief serves as Director at COSMIAC. COSMIAC is a research center at the School of Engineering at the University of New Mexico. Mr. Kief serves as Research Faculty at the University of New Mexico and has over 32 years of experience in computer engineering and satellite communications, including voice and data networks, testing, troubleshooting, debugging, system administration, embedded software, software/hardware integration, and network monitoring. Mr. Kief has an extensive background in programmable logic involving FPGA and microcontroller technologies. Mr. Kief retired from the Air Force in 1999 following 20 years of military service. Mr. Kief has a B.S. and M.S. in Computer Engineering from the University of New Mexico. He has published and taught in the areas of digital and programmable logic, satellite design and in verification and validation of systems. He is also an IEEE senior member.
---

Maria Daw, Senior Program Manager
Mrs. Maria Daw is the Senior Program Manager of the COSMIAC Research Center. She has been working for the University since August of 2005, and with COSMIAC since August 2013. She earned her BBA at the Anderson School of Management. Maria's duties involve business planning, development and establishing new program funding sources to create a multimillion dollaruniversity affiliated research center at UNM. Maria is the main contact for employing, training, supervising, directing, and evaluating the research center staff, students, and daily administrative research functions. She establishes, manages and tracks financial data for annual budgets to ensure compliance with established management systems and standards. A large amount of COSMIAC's awards are multifaceted programs, consisting of multiple funders and a wide variety of awards that range across the entire front of contract types to include: Indefinite Duration Indefinite Quantity (IDIQ), Firm Fixed Price (FFP), Cost Reimbursable (CR), Cooperative Agreement (CA), and (Cost Plus Fixed Fee) CPFF. Maria's job is to understand and manage all aspects of each of these types of contracting vehicles. She also assists in proposal preparation, submission, and contract negotiations as needed/required. She is seen as the main interface to COSMIAC, and as such works directly with the Director to establish the strategic direction of the center to ensure that it remains on path to accomplish these intentions.
---

Jim Aarestad, Chief Scientist
Dr. Jim Aarestad serves as Chief Scientist at COSMIAC. Dr. Aarestad received his B.S. and M.S. degrees in Computer Engineering from The University of New Mexico in 2009 and 2011 respectively. He earned his Ph.D. in Engineering, also from the University of New Mexico. Dr. Aarestad's graduate research centered on research and development of VLSI primitives for hardware security, including physical unclonable functions (PUFs) and hardware Trojan detection methodologies. His research interests include the application of highly-robust embedded system design methods for aerospace and terrestrial applications. He has numerous conference and journal publications, and has presented his research at several national conferences. Dr. Aarestad is currently developing the embedded software for a space-based radiation dosimeter module, and is developing educational materials and training programs to advance the teaching of FPGA-based embedded system concepts. He is also actively engaged in a research project to better understand and mitigate the susceptibility of cryptographic computing resources to power analysis attacks.
---

Brian Zufelt, Director, Engineering Services
Mr. Zufelt received his master's degree in computer engineering from The University of New Mexico. Over the last ten years Mr. Zufelt has worked for the University research center COSMIAC. His current work includes collaboration with Air Force Research Lab (AFRL) on testing and evaluation of advanced position, navigation, and timing technologies for the next generation GPS constellation. In addition, he is working with Slingshot Aerospace and AFRL on the development of different Internet of Things (IoT) network topologies for unmanned aerial vehicle (UAV) deployment and evaluation of new satellite communication platforms.
---
The COSMIAC Team

Christos Christodoulou, Senior Scientist
Professor Christos Christodoulou is a co-founder of COSMIAC and the Dean for the School of Engineering at The University of New Mexico. His research interests are in the areas of modeling of electromagnetic systems, FPGA reconfigurable systems, and smart RF/photonics. He was responsible for leading the COSMIAC collaboration between Government, Industry, and Academia to ensure design success and deployment of programmable logic in space, military and civil applications as well as developing the long-term plans for the Center. Dr. Christodoulou received his Ph.D. in Electrical Engineering from North Carolina State University in 1985. He served as a faculty member in the University of Central Florida, Orlando, from 1985 to 1998. In 1999, he joined the faculty of UNM's Electrical and Computer Engineering Department, where he served as the Chair of the Department through 2005. Dr. Christodoulou is an IEEE Fellow.
---

Daryl O. Lee, Senior Scientist
Dr. Daryl O. Lee has over 40 years of engineering, management, and instructional experience. His primary interest is in software engineering of secure real-time systems. Before joining UNM as a Lecturer in the Department of Electrical and Computer Engineering, Dr. Lee was Principal Software Engineer for Novint Technologies. In that position he was responsible for the runtime support software for a breakthrough line of low-cost haptic controllers. Previous activities involved public safety software using agile development methods for rapid delivery. Dr. Lee is a Life member of IEEE. Dr. Lee's teaching experience includes four years as lecturer at UNM as well as a year as guest lecturer at Hefei Institute of Technology in Hefei, China, and a variety of industrial in-house training programs. Dr. Lee has a PhD, MS EE, Southern Methodist University; BS EE, Lamar University, and a MA International Management Studies, University of Texas at Dallas.
---

Edl Schamiloglu, Senior Scientist
Professor Edl Schamiloglu is a Professor in the Department of Electrical and Computer Engineering at The University of New Mexico. Dr. Schamiloglu received his Ph.D. in Engineering from Cornell University in 1988. He has served as a faculty member at The University of New Mexico since 1988. Dr. Schamiloglu is a Fellow of the IEEE and a SUMMA Foundation Fellow. His research interests are in the areas of modeling of electromagnetic systems, directed energy microwaves, and the effects of high power microwaves on systems.
---

Sergio Santa Maria, Research Scientist
Dr. Sergio Santa Maria is a Research Scientist in the Space Bioscience Division at NASA Ames Research Center in Moffett Field, CA. Dr. Santa Maria serves as research faculty for COSMIAC at The University of New Mexico. His research interests are in the areas of DNA damage repair, radiobiology, and space radiation. He is currently a Project Scientist for NASA's BioSentinel mission, a 6U nanosatellite that will fly as a secondary payload on NASA's Exploration Mission 1 (EM-1), scheduled for launch in 2018. He is responsible for the development of the space radiation biosensors that will be used in BioSentinel and for testing and validation of the biosensors using different ionizing radiation sources, including particle accelerator experiments at the NASA Space Radiation Laboratory at Brookhaven National Laboratory and the proton accelerator facility at Loma Linda University. He earned his Ph.D. in Biochemistry and Molecular Biology from The University of Texas Medical Branch in 2008, and continued his postdoctoral studies at New York University School of Medicine as an American Cancer Society Postdoctoral Fellow from 2009 to 2013. He started working at NASA Ames Research Center in 2014.
---

Andrew Cochrane, Research Scientist
Andrew hails from Alaska where he grew up and became a commercial fisherman to pay for engineering school. His last summer between semesters at the University of Alaska Anchorage, he got a taste of graduate life in Albuquerque through The University of New Mexico's (UNM) Nanoscience and Microsystems (NSMS) Research Experience for Undergraduates. After completing his undergraduate degrees in Electrical and Mechanical Engineering in 2012 he returned to Albuquerque for grad school. He finished his MS with the NSMS Professional Science Masters cohort of 2013 when he studied both physical and business aspects of the fields of nanotechnology and entreprenuership. He proceeded to spend the next several years working on his Ph. D. in the newly renamed Nanoscience and Microsystems Engineering (NSME) program studying modeling and simulation of fluid mechanics for manufacturing processes.
Now a doctor, Andrew has joined COSMIAC at UNM, and is developing his knowledge of research in the fields of space, including communication, robotics and navigation. Andrew's core engineering competencies are modeling and simulation, fluid mechanics, software development and electromagnetics. But his interests are broad and also include nanotechnology, manufacturing, embedded linux systems, computer vision, mobile power systems, circuit design, antenna theory, material science, recycling, scientific visualization and communication, agriculture, artificial intelligence, virtual/augmented reality, privacy, cyber security and more.
---

Matthew Hannon, Senior Engineer
Mr. Matthew Hannon received a M.S. from Wichita State University and a B.S. from the University of Kansas both in Electrical Engineering. Mr. Hannon is very interested in emerging communications technologies with an emphasis on security and availability. Mr. Hannon has served as an advanced development researcher for a large scale-out server and storage infrastructure company for 5 years. Mr. Hannon has a great deal of experience in state of the art networking protocols and equipment, non-volatile memory, erasure encoding, and distributed computing.
---

Erich Brown, Research Engineer
Erich Brown received his BSME and is working toward his MSME from UNM. His research interests include using high fidelity simulations to predict and understand heat and fluid flow, improving thermal management for spacecraft, and growing young engineers. Brown has worked at AFRL's Integrated Structural Systems testing Oscillating Heat Pipes, simulating thermal cycling using Thermal Desktop, and performing facility maintenance on thermal vacuum chambers. His master's research is on characterizing the performance of biologically inspired rotor blades for personal use aircraft by using Computational Fluid Dynamics and experimental data. Brown currently provides guidance to several undergraduate interns on their projects provided by AFRL's Small Satellite Portfolio, ensuring that they have the adequate resources and help to complete their tasks.
---

Luis Hernandez, Research Engineer
Mr. Luis Hernandez is currently working toward his MSME from The University of New Mexico. Hernandez has worked at AFRL's space vehicles directorate under the Spacecraft Charging and Instrument Calibration Laboratory (SCICL). He tested the characteristics of electrostatic discharges in advanced solar array designs by using simulated space weather conditions. His Master's research was focused on material science and characterizes the effects of an electron irradiated and chemically enhanced polymer used in the space industry. Hernandez currently works with the Advanced GPS Technologies group at AFRL assisting with mechanical design components.
---

Casey Ottesen, Research Engineer
Casey Ottesen received his BS and MS degrees in mechanical engineering from The University of New Mexico. His interests involve rapid prototyping and novel manufacturing with both additive and subtractive methods. He has worked with several AFRL labs including the Directed Energy Directorate and the Space Vehicles Directorate. He has performed environmental and material characterization studies on various additively manufactured plastics for use in high power microwave systems. He has also played an instrumental role in the creation and development of the AFRL maker hub and the Agile Manufacturing Lab. The maker Hub is an open lab designed to provide anyone access to a suite of equipment for work and personal projects. The agile manufacturing lab is a joint collaborative between AFRL and The University of New Mexico. The focus of this lab is to develop advanced additive manufacturing methods while implementing autonomous and automated assembly and inspection.
---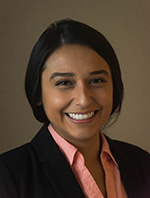 Diana R. Magana, Research Engineer
Diana R. Magana serves as a research engineer for COSMIAC. Diana is experienced in the following areas of optics: liquid crystal optics, free-space beam steering, fluorescent microscopy for application in quantum computing and secure quantum communications, interference and diffraction modeling, and metrology and fabrication for optical elements. Diana received her B.S in optical engineering and a certificate in nanoscience and nanoengineering from the University of Rochester. In Rochester, she worked at the Laboratory for Laser Energetics working on polymer cholesteric liquid crystal films and high-reflectivity devices for applications in optics, photonics, and information displays. Diana then earned her M.S. in optical science and engineering from the University of New Mexico where she worked at the Center for High Technology Materials working on an optical setup for the characterization of semiconductor lasers at cryogenic temperatures.
---

Mayer Landau, Research Associate Professor
Dr. Mayer Landau earned undergraduate degrees in mathematics from the City University of NY and in electrical engineering from the University of Virginia. He also has masters degrees in mathematics, physics, electrical engineering, and optical engineering. After earning his masters degree in electrical engineering from the University of Michigan, Dr Landau worked at MIT Lincoln Labs, doing X-band antenna diagnostics and development of a high power carbon dioxide laser for use as a low noise local oscillator. After earning his PhD in optical engineering from the University of Rochester, Dr Landau went to work at the Air Force Research Laboratory. While there, Dr Landau built two labs. A lab to generate pulsed terahertz radiation in order to study metamaterial structures and an atomic physics lab to study squeezed light to be used as a low noise local oscillator. Dr Landau was also trained in clean room fabrication both at The University of New Mexico's Center for High Technology Materials and at Sandia National Laboratory's Center for Integrated Nanotechnologies and has ten years of experience in nanofabrication.
---

David Alexander, Research Scholar
Mr. David Alexander received BSEE and MSEE degrees from the United States Air Force Academy in 1968 and from The University of New Mexico in 1973. He has been an active member of the radiation effects community for 42 years. He has held positions at the Air Force Weapons Laboratory, BDM Corporation, Sandia National Laboratories, Mission Research Corporation, the Institute for Space and Defense Electronics, and the Air Force Research Laboratory. He is currently a consultant for COSMIAC and The University of New Mexico. He has been an active participant in the technical community authoring numerous papers in the IEEE Transactions on Nuclear Science and the Hardened Electronics and Radiation Technology Conference.
---

Allen G. Chavez, Fiscal Services Tech
Mr. Allen G. Chavez has been working for The University of New Mexico since 2015 and over 8 years of experience working directly with the public for communications and marketing. He had earned his BBA at the Anderson School of Management and received a dual concentration in Marketing and Operations. Allen has the ability to analyze data and compile statistical information into reports that he is able to apply this advanced knowledge to perform tasks such as planning, inventory, procurement, record keeping, and database management. He supports the Director, staff, faculty, and students engaged in implementation and administration of COSMIAC Center objectives.
---

Erik Johnson, IT Support
Erik Johnson provides IT support at COSMIAC. He is currently taking classes at Central New Mexico Community college in order to get his Bachelor's degree in Electrical Engineering at the University of New Mexico. Erik has worked with computers most of his life and participated in the super computing challenge for three years. He's skilled in problem solving and computer repair. Erik works with the Director to ensure COSMIAC networks stay operational and that the staff, faculty and students can work in a secure IT environment.
---
Undergraduate and Graduate Students
Micah Sedillo

(MechE) – Launchpad ME Support

Haylie Orozco

(ChemE) – Hoff (RD/Leidos) on HPM Energy Transfer

Rowdy Davis

(NE) – Mee (RV/SPACR) on Embedded Systems

Katie Haynes

(ChemE/WS) – Alexander (RV/APECS) on PCB Development

Joe Pomo

(ME Grad Student) – Williams (RV/APECS) on Materials Studies/MakerSpace

Isaac Carrasco

(CompE/WS) – (SAIC SMC) on Cybersecurity

Windy Slater

(EE Grad Student) – Mee (RV/SPACR) on Embedded Systems

Clarizza Chacon

(EE) – Machine Learning

Brandyn Solano

(CompE) – Triad on Radiation Effects

Matthew Gonzalez

(MechE) – RAST Support for Thermal Laboratory

Brady Spears

(Physics) – Wheelock (RV/APECS) on DSX

Karin Fulford

(EE) – Jeong (RV/APECS) Radiometric development of NIST-traceable sources

Annette Cortes

(CS/WS) – PNT design

Jonathan "Zack" Daniels (EE) – Northrop working SPICE modeling

John Rose

(EE Grad Student) – Lyke (RAST) RF systems

Judy Brewer

(EE) – Mee (RV/APECS) Working SPACR Lab

Ben Rutherford

(CompE) – Dave (ATA) Working FFT analysis on space power

Michelle Louie

(CS Grad Student) – Small Satellite Portfolio

Benjamin Fogg

(CompE Grad Student) – Small Satellite Portfolio

Ryan Colvin

(EE) – Small Satellite Portfolio

Samantha Korfe

(ME) – Small Satellite Portfolio

Fernando Parra

(CS Grad Student) – RAST Structures Investigation

Jonah Johnson

- (CompSci) - Development Support for MATRS programming

Tyler Talbott

– (MechE) – RAST Support for Thermal Laboratory

Adam Mang

– (ChemE) – Development Support for MATRS programming

Sam Pavlakos

(BA Business) – Contract Development

Elizabeth Armistead

(Optics Grad Student) - OGA

Jenai Beal-Permel

(ME) - OGA

Steve Lindsley

(ME Grad Student) – OGA

Evan Kain

(EE PhD Student) – Space Electronics Technology
---